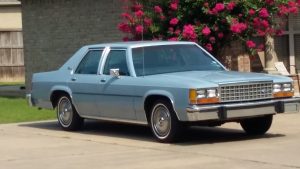 I noticed this BEAUTIFUL old Ford while out walking earlier today. The photo really doesn't do it justice. Early 1980s LTD Crown Victoria. 100% original.
I loved my Oldsmobiles: 1977 Cutlass Supreme, 1978 Ninety-Eight Regency, 1979 Cutlass Supreme Brougham, '84 Delta 88 Royale. They will always will be my favorites. But I also have a thing for the Panthers. These "Boxy" LTDs looked great and were very extremely reliable machines. Most had a 302 V8 which was bulletproof, albeit a bit underpowered for a car of this size and weight.
If I happen to see the owner out, I will ask them if they want to sell it. Do I really need a 40 year old Ford in my life? Of course not. But I've always been a sucker for classic 1970s and 80s cars. Especially those in great condition as this example appears to be. Not to mention, these Crown Vics are wonderful road-tripping machines!