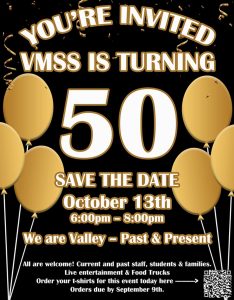 Apple Valley friends: over the past few days, I've found a few things you might be interested in!
First, Valley Middle School is celebrating their 50th year of operation! In commemoration, they're having a little party in October. All current/former teachers, staff members, and students are invited to attend.
Speaking of VMS, those of us lucky enough to have Mr. Patrick Heaney for 7th grade American History know how he loved to sing and play guitar. He'd occasionally entertain us in Locker Bay 'B' with Mr. Aase and sometimes Mr. Ogee. I'm sure you remember "Dear Abby", "Blew Up the TV Threw Away the Paper", and "My Whole World Lies Waiting Begind Door Number Three." Because of this and the fact that he was genuinely great at his job, Mr. Heaney was my favorite teacher at Valley Middle.
I am pleased to announce Mr. Heaney is STILL singing and playing guitar 5 decades later! The name of his band is The Vintage Tones of Spielzeiten Und Pausen. They play at various events and venues throughout southern Minnesota. Check out their Facebook page for several videos and details on upcoming performances!