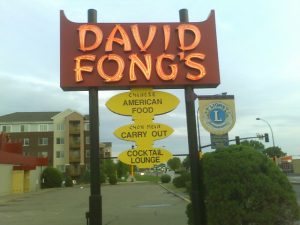 Hard to believe David Fong's is gone. I've loved this place since I was 5 years old! In 1969, we moved from south Minneapolis to Apple Valley. There was no Chinese restaurant in AV back then, so Mom would call Fong's on 94th & Lyndale in Bloomington for takeout. Dad would then pick it up on his way home from work. I can still see the pink menu card taped to the front of our refrigerator.
Later, I discovered the joys of Fong's back bar. One of the few places I could drink underage! The place was absolutely PACKED on weekend nights, so they didn't even bother trying to card everyone. This was the early 1980s when drinking laws were a lot more lax than they are now.
Whenever I came back to Minnesota, I'd try to get to Fong's at least once. Unfortunately, I couldn't make it this one last time. Thanks for all the great meals, the drinks, and the memories.
Here's the most recent pic I have. It was taken on Sunday, May 6, 2012.