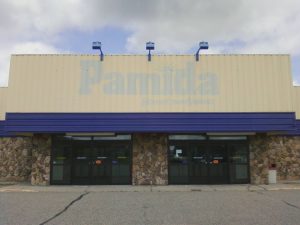 Abandoned Pamida stores are a common site across the Upper Midwest. Pamida was basically a smaller version of Walmart, located in towns which were too small to attract one. In Park Rapids, Minnesota, as in many other places, the town grew to the point where Walmart built a Supercenter. The effect on Pamida was swift and predictable: within a few months, it closed forever.
In 2012, Shopko bought all remaining Pamida stores. They were either closed or converted to Shopko Hometown stores. Apparently, this one in Park Rapids will not be transformed into a Shopko.
I'm surprised the building is still vacant. It's on Highway 34 east which is the major road leading to the lakes. My guess is that the building is too large for one client and the owner does not want to split it up into smaller spaces.