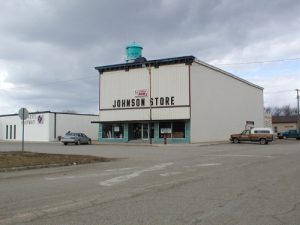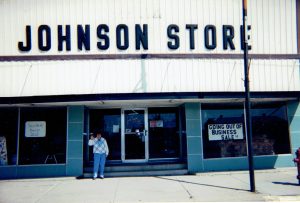 My maternal grandparents Emil and Lena Schepp lived in Michigan, North Dakota from 1952-84. Emil managed Farmers Union Elevator until he retired in 1973. Lena worked as a nurse. Whenever we came to visit, I'd immediately head for the Johnson Store. This was a local chain of small town general stores with locations in Cooperstown, Park River, Lakota, Hillsboro, Hatton, Finley, Edmore, Drayton, Adams, Rugby, Northwood, New Rockford, Maddock, McVille, Portland, Cando, Hope, Stanley, Larimore, and of course Michigan.
Growing up in the suburbs of Minneapolis, I'd never seen anything like it! One store that had pretty much everything you needed. Groceries, clothing, hardware, radios, plus an entire line of furniture upstairs! From the time I was about 8, Grandma would send me to the Johnson Store for cigarettes…and they'd sell them to me! Of course, everyone who worked there knew who I was, who I "belonged" to, and what brand Grandma smoked. You gotta love small towns!
The Michigan Johnson Store went out of business in either the late 1990s or early 2000s. As the Internet and online shopping became available, hometown stores like this one found it increasingly difficult to survive. I'm not sure of the exact date it closed, but I do know that Grandma was there!