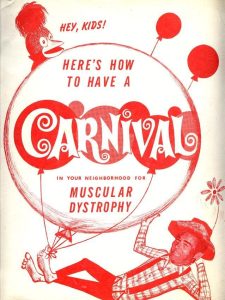 Happy Labor Day! This time of the year always reminds me of the Jerry Lewis Telethon. It was held every Labor Day weekend, raising money for Jerry's Kids. Those poor boys and girls had muscular dystrophy, a group of diseases that cause progressive loss of muscle mass and weakness. While Jerry and his assistants were collecting pledges on TV, children were encouraged to help out by holding MD Carnivals in their back yards. WTCN-TV, our local Channel 11, advertised free MD Carnival Kits that you could order to help plan and promote your own carnival.
I'll preface the next section by asking "Has the statute of limitations run out yet?" Well, it was 1980 and I was just 16 years old, so I think I'm good here. One day while watching the commercial, I got the idea of using these nifty little kits to play a nasty prank on one of my teenage adversaries. "Todd" and I didn't get along very well. Nor did he play nice with a few of my friends. We decided that Todd was going to help out 'ol Jerry by having a carnival for muscular dystrophy on Labor Day. Except that Todd wouldn't know this until the hordes of fun-seeking youngsters began showing up at his door.
The carnival kits included several signs as well as instructions on how to advertise your carnival for maximum exposure. We used all of the provided signs plus a bunch more that were made from "repurposed" garage sale signs that we found throughout our neighborhoods. Starting on Saturday morning, we began placing the signs all over Apple Valley, Minnesota. Using car CB radios to coordinate our efforts, I'm guessing we put up close to 100 signs on grocery store bulletin boards, telephone poles, and fast food restaurant bathroom walls!
"Come One Come All to Todd's MD Carnival!"
"Everyone's a Winner at Todd's MD Carnival!"
"Bring Your Whole Family to Todd's MD Carnival, All Day Labor Day!"
Upon completing our laborious task of placing the signs, we lay in wait for Labor Day to arrive. Sure enough, early Monday morning, kids began ringing Todd's doorbell, asking "Where's the carnival?" I drove by several times to observe people parking cars and coming to/from the front door. Later, we learned a steady stream of would-be carnival goers continued to appear throughout the morning, afternoon, and into the early evening hours. Mission accomplished: we had successfully pulled off Apple Valley's first M-DEED Carnival!
DISCLAIMER: This story for entertainment purposes only. Don't do this at home, kids!
Wait…do they even have MD Carnivals anymore?