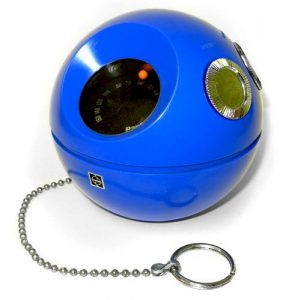 By chance, did you work in North Dakota radio back in 1983? Or do you know someone who did? If so, they may be on this tape!
I was 19 and had just graduated from Brown Institute of Broadcasting in Minnesota. As I was awaiting my first job, I decided to drive up and visit my grandparents for a week. Of course, I used the time to listen to and aircheck every station that I could receive on both the AM and FM bands!
North Dakota has wonderful soil conductivity. Even small 1,000 watt stations can easily cover 100 miles from their transmitters. For FM, I connected my radio to Grandpa's TV antenna. He had one of those large fringe models on a tower. There was a bolt at the base which could be loosened so that the antenna could be rotated. Normally, it was aimed SE towards Fargo. When nobody was watching TV, I would go outside and point it at Winnipeg, Minot, and Bismarck. The end result of all this teenage radio mayhem is a composite dial scan which has miraculously managed to survive for the past 40 years.
In order of appearance, these stations are featured:
KKXL-FM 92.9 ("XL93FM") Grand Forks, ND
CKWG-FM 103.1 Winnipeg, MB
KSJM-FM 93.3 Jamestown, ND
KBRF-FM 103.3 Fergus Falls, MN
CITI-FM 92.1 Winnipeg, MB
WDAY-FM 93.7 ("Y94") Fargo, ND
CHIQ-FM 94.3 ("Q94") Winnipeg, MB
KYCK-FM 97.1 Crookston, MN
CHMM-FM 97.5 Winnipeg, MB
KQDY-FM 94.5 ("Q94") Bismarck, ND
KYTN-FM 94.7 ("Y95") Grand Forks, ND
KFYR-AM 550 ("K-FIRE") Bismarck, ND
KNOX-AM 1310 Grand Forks, ND
KFGO-AM 790 Fargo, ND
KSJB-AM 600 Jamestown, ND
KSDN-AM 930 Aberdeen, SD
KVOX-AM 1280 Moorhead, MN
KKXL-AM 1440 Grand Forks, ND
CKJS-AM 810 Winnipeg, MB
CKRC-AM 630 Winnipeg, MB
CKY-AM 580 Winnipeg, MB
KQWB-AM 1550 West Fargo, ND
KDLR-AM 1240 Devils Lake, ND
KNDK-AM 1080 Langdon, ND
CJOB-AM 680 Winnipeg, MB
KCJB-AM 910 Minot, ND
WDAY-AM 970 Fargo, ND
KXPO-AM 1340 Grafton, ND
KMA-AM 960 Shenandoah, IA
KGFX-AM 1060 Pierre, SD
KSOO-AM 1140 Sioux Falls, SD
KYYZ-FM 96.1 Williston, ND
KIZZ-FM 93.7 Minot, ND
KRRK-FM 103.9 East Grand Forks, ND
KRRK-AM 1590 East Grand Forks, ND
KQDJ-AM 1400 Jamestown, ND
KGCA-AM 1450 Rugby, ND
KTYN-AM 1430 Minot, ND
CKCK-AM 620 Regina, SK
KKAQ-AM 1460 Thief River Falls, MN
KTRF-AM 1230 Thief River Falls, MN
KROX-AM 1260 Crookston, MN
KBMR-AM 1130 Bismarck, ND
KOVC-AM 1490 Valley City, ND
CKX-AM 1150 Brandon, MB
KFNW-AM 1200 West Fargo, ND
47 stations in 28 minutes! Here it is, exactly as it was originally captured 40 years ago this week. Source receiver/recorder was a Pioneer boom box of pretty decent quality. Source tape was a TDK D90 cassette. Recorded Monday, July 18 through Friday, July 22, 1983. Enjoy!
https://drewdurigan.com/audio/North_Dakota_Dial_Scan_Jul_1983.mp3