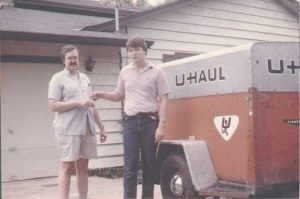 Happy National Radio Day, y'all! Seriously, it's a real holiday. Look it up!
Ironically, August 20th was also the day that I left home 38 years ago to begin my radio journey. Just a few days earlier, I received "the call" from Mike Kronforst, Placement Director at Brown Institute. Mike said "I think I might have something for ya. But I have to warn you, she's a very demanding employer." I didn't care. At that point, I would have worked free of charge for Attila the Hun. I was 19 and had wanted to be on the radio since I was 4 years old. Finally, my dream was coming true. So off I went, U-Haul loaded to the gills, into the great unknown.
Two days later, my 16 year radio adventure began at KNAB AM/FM in Burlington, Colorado. I did a DJ show, read news and sports, produced commercials, shoveled the snow, burned the trash, and washed the boss lady's car. 6 days a week (sometimes 7) for $750 per month. That's before taxes. If I had the chance to do it all over again, I would without hesitation. Heck, I would have done it for free! When you're 19, all you need is enough money for rent, fast food, gas, and beer. Good times!