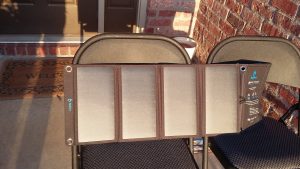 Last month, I told you about my newest hobby: messing around with sun energy and solar panels. I purchased a small solar cell phone charger from Harbor Freight. It's been working great! Shortly after I bought it, my friend Jason presented me with a dire warning. He informed me that I now possessed "the entry-level drug." Soon, I would become hooked on this solar power thing, purchasing larger panels, power banks, charge controllers, etc. Turns out, he was right.
A few days ago, my package arrived from Amazon. It contained a BigBlue 28 watt solar charger. This represents quite a step up from the 5 watt Harbor Freight unit. BigBlue has 4 panels and claims a maximum output of 28 watts. Turns out, it's grossly overrated, but all of these units are. Each of the 3 USB ports is labeled 2.4 amps maximum. The most I've been able to get out of it so far is about 1.05 amps in the middle of the day with bright sunshine.
That being said, this is a quality unit. It appears to be well made and durable. Backpackers and campers use these chargers, so it has to be rugged. Not to mention, it must have the ability to withstand having the sun's rays beat down on it every day. BigBlue can charge my 10000mAh power bank from flat dead to full strength in about 10 hours. If you do the math, it comes out to 1,000 mAh or 1 amp per hour. This matches the readings I am getting from my external ammeter.
If you want your own BigBlue solar charger, Amazon is currently selling them for $69.96. Watch for special deals and you can get it for less. I paid $57.66. In some cases, these promotions only last for a few hours, so you have to keep a close eye on the website.
I'd say this bad boy is well worth the money. BigBlue works well and is easy to use. Having 3 USB ports instead of just 1 or 2 is a real advantage when you need to charge multiple devices. But I'm warning you: messing around with this solar power stuff is extremely addictive!