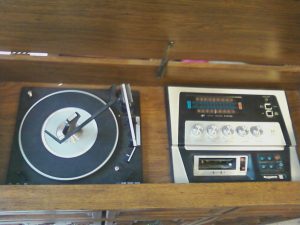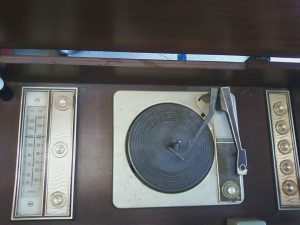 Anyone else into 1960s and 70s console stereos? I saw these two beauties at Goodwill recently. The first is an RCA Victor which I'm guessing is from the early 1960s. It features a record changer, AM/FM tuner, and 3-speed record changer. All encased in a real wood cabinet. It even has the original "fat" 45 RPM spindle adapter. The photo cut off the adapter, but you can see it in the upper lefthand corner if you look closely. Very nice unit.
The second console is an Electrophonic from the mid 1970s. These were lower-end "budget" stereos of mediocre quality. The cabinets are made of particle board instead of real wood. The components and speakers are not the greatest. This Electrophonic is somewhat rare, however, since it features an 8-track tape unit which records as well as plays. Most similar consoles in this price range were only capable of playing back prerecorded tapes. Even though it probably doesn't have the best sound, it still looks great for it's age!
Which one did I buy? Neither. I don't have anywhere to put them! If you love these old console stereos like I do, check out your local Goodwill stores. It would look great in your basement, spare room, or wherever you have space in your house!