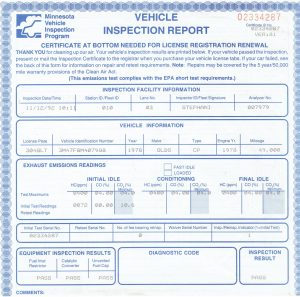 Here's another one from Mom & Dad's Grooveyard of Forgotten Favorites.
From 1991 until 1999, vehicles registered in the Twin Cities metro area were required to undergo an annual inspection for emissions. No pass? No tabs! A major hassle, as well as a major expense if repairs were needed in order to bring your vehicle into compliance. And if your catalytic converter had been removed or hollowed out, woe unto you!
Testing was a joke. Cars would fail because the thermostat didn't get the engine warm enough. Also, diesels were exempt. Back in those days, they were the worst polluters of all. My dad drove an '83 Suburban with the 6.2 diesel. Black smoke poured out of the tailpipe on acceleration. Emissions issue? Nope. You're exempt from testing. But hey, we're helping the environment.
Gubernatorial candidate Jesse Ventura promised to repeal this nonsense if elected. He won and did so, shortly after being inaugurated.