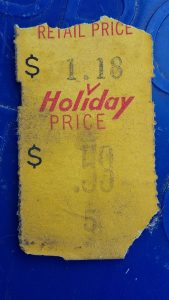 I found this while cleaning out Mom and Dad's garage. Not sure what it was originally attached to. The glue dried up long ago and the sticker was just laying there loose. These particular price tags were in use during the 1960s and early 1970s.
For those not familiar with Holiday Village, it was Minnesota's original superstore! There were originally 2 locations in the Twin Cities: Bloomington and Fridley. Later, additional locations were added in Plymouth and finally Burnsville. You could buy pretty much anything at Holiday: groceries, cameras, TVs, fishing equipment, jewelry, record albums, even car parts. Need a haircut? There was a barber on duty during the daytime hours. Want to take a new friend home? Yep, they had you covered with a full service pet shop.
Holiday Village (later changed to Holiday Plus) closed in the 1990s. Growing competition from Walmart, Target, and new malls gradually cut into their customer base. But the name lives on today through Holiday Stationstores which can still be found all throughout the Upper Midwest. Did you ever shop there?