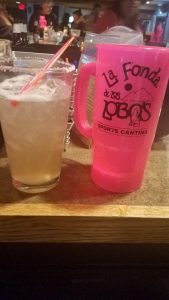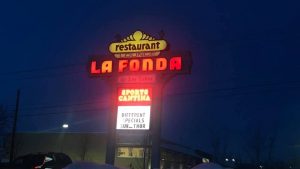 Minnesota friends: I just received word that LaFonda de Los Lobos is closing! Today is their final day in business. Apparently, there was no advance notice given as there is nothing on their Facebook page or website. From what I am told, the owner has passed away and the City of Eagan wanted the land. Octaviano "Otis" Trujillo started this Minnesota restaurant back in 1976. After 43 years, tonight will be last call on Highway 13.
This sucks. LaFonda has been in this location since…forever! I first discovered this place when I was in high school, working at Burnsville Kmart. After the store closed at 10PM, a group of us would make the short drive to "La Fonda's" for Mexican dinner and drinks. Yes, I said drinks. La Fonda was one of the very few places that 17-year-old, baby-faced me could get served. I think it had a lot to do with the fact that everyone whom I was with were in their early 20s. Legal drinking age was 19 at the time. If you averaged us all together, we were legal 🙂 If you're able, be sure to stop in for one last Loborito!
Kudos to my friend Tracy Ferris! Although I couldn't get there for last call (due to the small issue of being 800 miles away), Tracy was able to make the short drive from Apple Valley. She even sent me the mug to prove it!