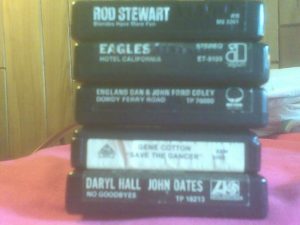 Danger! Danger! Drew was out scouring Twin Cities' Goodwill stores for bargains again. Yesterday, I scored 5 more 8-track tapes:
Rod Stewart – Blondes Have More Fun (1978)
Eagles – Hotel California (1976)
England Dan & John Ford Coley – Dowdy Ferry Road (1977)
Gene Cotton – Save the Dancer (1978)
Daryl Hall & John Oates – No Goodbyes (1977)
How much did this ear candy from the 1970s cost me? A total of $2.62! 49 cents per 8-track tape plus 7.125% sales tax.
All of the the tapes seem to play well. The two things you have to look out for are deterioration of the foam pressure pads and dried up glue on the splice. The former can be determined immediately by looking at the top of the 8-track cartridge. The latter sometimes doesn't become evident until you've played the tape a few times. We'll see what happens. Needless to say, it was a great day to live the CheapoLife at Goodwill!