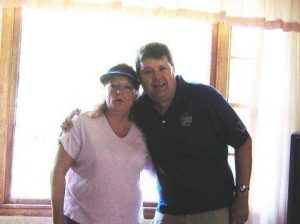 Throwback Thursday: August, 2004. Age 40.
Meet my friend Diane. Diane and I go all the way back to Mr. Alan Olson's 7th grade math class at Valley Middle School. I always admired her long red hair but was too shy to strike up a conversation with her. A few months later, Diane's parents bought her a CB radio for Christmas. She became KAHD-6970, the Minnesota Redhead. Now, she was in Drew's world and therefore approachable. We quickly became good friends and have remained so ever since.
This was taken at Diane's house in Newport, Minnesota. We're getting ready to have ourselves a bonfire! It started out as a small gathering and turned into a 3-day party. Good times! Hope to do it again someday soon.