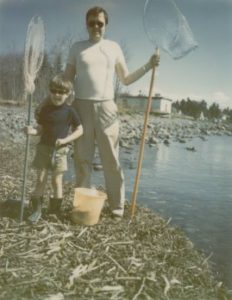 Throwback Thursday: Spring of 1971. Age 6.
Here I am, smelt fishing with my dad at Knife River, Minnesota. Knife River is located northeast of Duluth on the North Shore.
Dad lived for smelt season. Every year, he'd pack his nets with a couple of empty garbage cans and head north. My mom, however, was not a fan. To her, smelt fishing was pointless. Dad would bring home a bunch of smelt and put them in the freezer. But we never ate them. Instead, they stayed there, taking up space until the next smelt season. The fish were then thrown away to make room for new ones. Repeat. Every. Year.
Notice my fashion boots and shades! Never let it be said that Drew was not a classy dresser. My esteemed collection of radio station t-shirts came later.