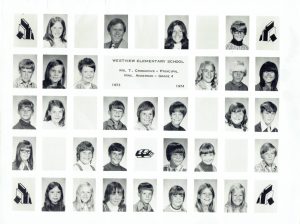 And finally, the last one! Mrs. Judy Anderson's/Miss Linda Oftedahl's fourth grade class at Westview Elementary School in Apple Valley, Minnesota.
Mrs. Anderson left in the middle of the year. When we returned from Christmas vacation, our new teacher was Miss Oftedahl.
Row 1: Cindy Olson, Mr. Tom Crosgrove, Mrs. Judy Anderson, Brian Baldwin
Row 2: Jeff Anderson, Janet Olson, Drew Durigan, Michelle Arneson, Wayne Wagner, JaCee Trom
Row 3: Mike Taft, Kathy Ferguson, Shawn Sullivan, Janet Johnson, Mike Lucken, Colleen O'Neill, Ken Nordvik
Row 4: Carrie Stover, Deb Hoy, Mike Carlisano, Bill Hill, Delite Sellon, Todd Massicotte
Row 5: Patti Claude, Heather Bristol, Yvette Christopherson, Darryl Hankins, Pam Henkemeyer, Kim Selig, Leigh Mohart
BONUS PIC! Our class collected Campbell's soup labels which we then traded for new audio-visual equipment. This appeared in the Dakota County Tribune, late 1973: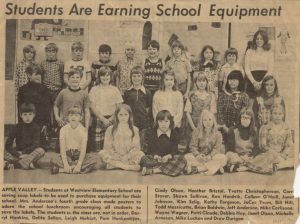 I can't find my 5th grade pic, but I will keep searching. Hopefully, you enjoyed these past few days of flashbacks to Westview in the 1970s. Remember, the BEST view is WESTview!