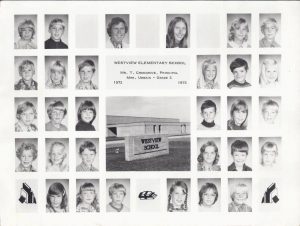 Today, we move on to Mrs. Doris Urbain's third grade class at Westview Elementary School in Apple Valley, Minnesota:
Row 1: Chris Niesen, Don Hillman, Principal Tom Cosgrove, Teacher Doris Urbain, Laura Jacquard, Tim Pietz
Row 2: Mike Ekegren, Linda Young, Dan Piper, Leigh Mohart, Tom Kenyon, Lisa Morreau
Row 3: Jana Voelke, Kevin James, Shelly Jewett, Glen Pirie, Sheryl Braun, ?
Row 4: Peter Schoepke, Julie Warner, Greg Williams, Michelle Eibner, Drew Durigan, Jeanine ?
Row 5: Kolleen Quilici, Delite Sellon, Kurt Gulden, Sarah Bergwald, Andrea Grazzini, Jeff Bolstad
3rd grade was an "average" year for me. I didn't love it. I didn't hate it. The following year, Mrs. Urbain was promoted along with us from third to fourth grade. Which meant that some in our class had her for a teacher 2 years in a row. I wasn't one of them. I guess Mrs. Urbain decided that one year with me was enough!