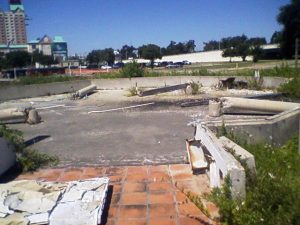 Ramblin' Road Trip 2010 continues! Yesterday afternoon, I left Knoxville, heading southwest. Today, I woke up in Ocean Springs, Mississippi. Already, I'm reunited and having a great time with my friends on the Mississippi Gulf Coast. Even though I did not grow up anywhere near here, this place feels like "home" to me.
Although it's great to be here, it's sad to see how much destruction and debris remains. 5 years after Hurricane Katrina, there are still vacant lots and steps to nowhere. This is what remains of the Sportsman's Club aka Gorenflo's bar on Point Cadet. It was a very popular gathering place, especially on the nights when Hank Berumen would perform live. Katrina washed it away, but you can see exactly where it used to be. The 2 octagonal foundations and broken support pillars are still sitting here. You'd think they'd have cleaned up the site by now. This is prime real estate, right on the water.
Lots of great memories in this place. Hopefully, it will be rebuilt at some point. Given the cost of insurance for coastal properties today, that may be impossible. We'll see.