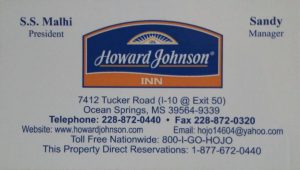 Mississippi friends, look what I found while digging through my glove box!
This card came from the recently demolished Howard Johnson's in St. Martin. I always liked this place and called it "The Pink Hotel." Back in August-September 2010, I even got to stay there for awhile. That is, until Mr. Fireman knocked on my door and said "There's a fire. You have to evacuate!" That was fun.
The fire was minor and the hotel eventually reopened. Ironically, there was a much larger fire just 2 years later which closed The Pink Hotel for good. After sitting as a burned out eyesore and home to various seedy characters for nearly 5 years, demolition began just last month.
As I was frantically throwing stuff into my car, a woman who worked at this HoJo ran up and gave me a card. She said "Call them on Monday and they'll credit your card for the rest of the nights." Which was a good thing since I had paid well in advance. Who knew some idiot would start an argument with his girlfriend and light her stuff on fire? I put the card in my glove box and forgot about it until now. 7 years later, I have a genuine souvenir to commemorate my stay at The Pink Hotel!