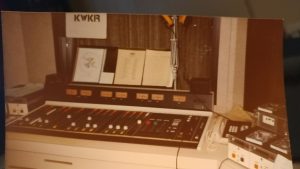 My friend and co-worker Dave Boller took this photo back when we both worked at "The Fine 99-9" KWKR in Garden City, Kansas. This monster was our control board: a Harris Micro Mac console. Major overkill for a radio station. I believe it was designed for use as a TV sound board. Notice there were THREE source buses: program, audition, AND auxiliary. It sure looked pretty with all those flashing lights and meters.
I'll never forget the first time I saw this studio. WOW! Music on cart. A CD player. And THAT BOARD! Holy moly. After driving 15 hours across 4 states, I have reached the mother lode!
Does anyone happen to know what happened to the Micro Mac after Ron Isham sold KIUL and KWKR? I'm pretty sure it did not make it over to the WKS compound.