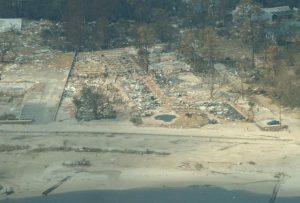 16 years ago today, Hurricane Katrina devastated the Gulf Coast of Mississippi and Louisiana. Where were you? I was in Minnesota, having left the area just 27 days earlier. If I had stayed, I'm 99.9% certain that I wouldn't be talking to you right now. Here's what Ocean Pointe Apartments on Front Beach in Ocean Springs, MS looked like after Katrina. That was the complex where I had lived.
Each August 29th is a sad day of remembrance for everyone who was affected. Especially those who lost friends or family.
WLOX-TV 13 tried to film the aftermath along the coast. But the devastation was so great that their crews could not get into this area. WLBT-TV 3, their sister station in Jackson, flew a reporter down in the news helicopter. I'm up in Minnesota, watching all of this on the WLBT website.
The report begins in Waveland and continues east, panning the coast. I'm just sitting there speechless. Restaurants, bars, stores that I had been to just a month earlier are now just piles of rubble. Then the Biloxi-Ocean Springs bridge is shown. I used to walk that bridge several times per week. It's in ruins.
Finally, the chopper gets to Ocean Springs. The Yacht Club is gone. The reporter keeps filming. Soon, I hear the reporter say "This is…(awkward pause)…this looks like what used to be an apartment complex." The helicopter pilot, who so far hasn't said a word, says "I hope nobody tried to ride out the storm in there." Then silence as both men realize that many people likely died in that complex. The buildings are completely GONE. All that remains are the concrete slabs in the ground. The only thing I could recognize was the swimming pool.
It's indescribable to watch something like this and explain your feelings, knowing that you lived there less than a month ago and would almost certainly have been killed if you hadn't chose to evacuate. Several people did not. The reason was because they thought Katrina was another false warning. Just one month earlier, we had Hurricane Dennis. This was supposed to be the big one. The Mississippi Gaming Commission even ordered the casinos closed. At the time, those casinos generated $40 million per day and the state gets a hefty chunk in taxes. If MGC orders the casinos closed, you KNOW it's serious. There were mandatory evacuation orders for the Coast.
I packed everything I could fit into my car and headed west on I-10. The first available motel rooms were in Baton Rouge, so I stayed there for 3 days. Nothing happened. When I returned home, my neighbor from Mobile laughed at me for evacuating. The following month when evacuation orders were issued for Katrina, people largely ignored them. By the time it became evident how large and destructive this storm would be, it was too late to evacuate. The worst possible place you can be in a hurricane is stuck in traffic.
Two years later, everything still appeared as it was after the storm. Condos were supposed to be built on that site. But after the hurricane, the cost of insurance became prohibitive, if you could find insurance at all.
This is the exact space where my apartment was. It really helps you put things into perspective.