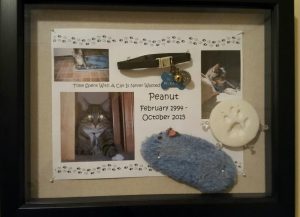 Today is Rainbow Bridge Remembrance Day. Of course, this means I am thinking of Peanut. He was the most personable, most friendly, and overall best cat that I have ever known. Peanut lived a long, healthy, happy life. He enjoyed 21 birthdays!
When Peanut died in 2015, Kristine created this in his memory. In addition to the photos, it includes his favorite toy. He carried that old mouse around for years and often slept with it. Peanut always wore his collar, accompanied by a "bone tag" which told everyone who he was, where he lived, and who he belonged to.
Peanut received his silver collar charm during Saint Francis' Blessing of the Animals. Kristine made the paw print when he was about 5. He was a sweet kitty and the best friend anyone could hope to have. I still miss him. I always will.