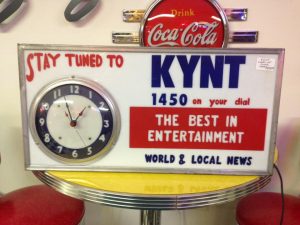 Check out this antique radio station clock sign! My friend Wayne Wagner found it at Kilroy's Slot Machine & Jukebox in Minneapolis, Minnesota. Wayne and I have been friends since first grade. We used to talk to each other on CB radio, waaaaay back when he was KGU-3859 the Minnesota Gopher and I was KADF-6895 the Rhinestone Cowboy!
Anyway, this clock was custom-made for KYNT radio in Yankton, South Dakota. "1450 on your dial." That's AM, of course, since most people didn't even know what FM radio was back in those days. When was this clock sign made? Not sure, but I'm guessing the 1950s or possibly the early 60s. WPBC in the Twin Cities had a similar clock made for them. They gave these to their best clients who displayed them proudly in their businesses.
Want it? According to the price tag in the upper right corner, it can be yours for just $295.00. Better hurry, though, as this is very likely the only KYNT clock sign still in existence!