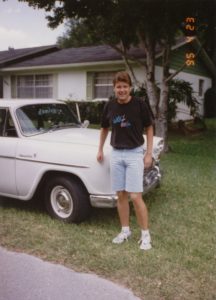 30 years ago at this very moment, I was achieving my lifetime dream: finally on-the-air at a Twin Cities non-pirate, non-CB radio station.
My first day at 105.1 WTCX. I could write an entire book about that station. Which is especially amazing considering that I was there just 8 months before it sold and signed off for good. By far, the most wasted potential of any station I ever worked at. But it got me on-the-air in Market #17 with the strongest of all FM signals in my hometown of Apple Valley, Minnesota. "Saturday Night Fever", the all-70s show that I created and hosted, was undoubteedly the most fun I ever had in radio.
And yes, I even got the (non-Steely Dan) T-shirt! Ever seen one? They were extremely rare. I think we only had 25 and half of those went to staff members. R.I.P., WTCX.