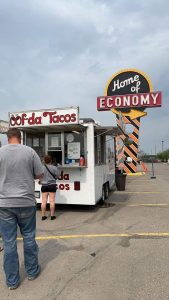 My good friend Phil lives in Grand Forks and works for a group of radio stations. We've been buddies ever since meeting in Fort Dodge, Iowa back in 1986. I have to share this pic that he took because it just SCREAMS North Dakota!
Home of Economy is a small chain of stores which is exclusive to North Dakota. They have locations in Devils Lake, Grand Forks, Grafton, Jamestown, Minot, Rugby, Watford City, and Williston. Oof-da Tacos is a popular mobile food truck which happens to be parked in Home of Economy's parking lot today. I guess technically Oof-da Tacos is not native to North Dakota: they're headquartered in nearby Erskine, Minnesota. But they spend plenty of time west of the Red River, as evidenced by this photo.
If I had to caption this pic in one line, it would be as follows: "Tell me you're in North Dakota without telling me you're in North Dakota!