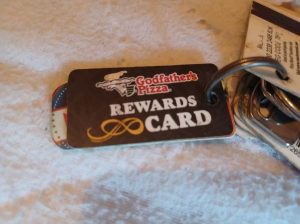 Sad news today from the town next to my hometown: after 44 years, Godfather's Pizza has closed their Burnsville, Minnesota restaurant.
This was one of my "Big 3" must-visit food joints whenever I went back to visit. (The other two are White Castle and Zantigo.) This Godfather's was located next to Target, directly across the street from Burnsville Center. It opened about the same time as the Center, which dates back to August, 1977. I can't count the number of times I've eaten there over the years.
If that's not depressing enough, all 3 of the Godfather's Pizza places frequented when I lived in Iowa have also bit the dust: Algona, Fort Dodge, and Humboldt are all permanently closed. Does anyone know if Mason City is still open?
I am crushed. NOBODY could make a better Taco Pizza than the Godfather! I guess my Godfather's Rewards Card is pretty much worthless now. Eternally the optimist, I'll keep it just in case I happen to get lucky enough and come across one in my travels which still has the lights on.