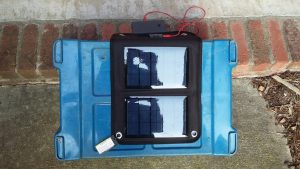 Yesterday, I bought something new to play with. Harbor Freight has these solar chargers for $30.39 with a Father's Day 20% off coupon. I've never messed around with solar before, but since I'm all about free, now would be a great time to start!
I purposely ran this battery pack down to absolute zero charge and I'm now waiting for the sun to come up. We'll see what happens.
UPDATE: It works! Took about 10 hours to charge the pack. It's a 5 watt charger @ 5 volts, so maximum output is 1 amp (watts = volts x amps.) The battery has a 10 amp/hour capacity, so that would be 10 hours to charge from dead. In other words, it works as advertised!