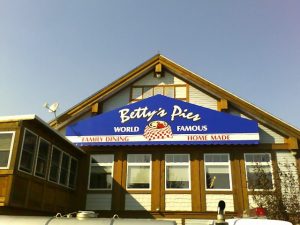 Betty's Pies! A world famous landmark, just north of Two Harbors, Minnesota on Highway 61. This place has been around since 1956, serving homemade pies and other delicious menu items. "World Famous Pies", as their sign on the front of the building proudly proclaims.
I have been hearing about this place for years, but never had a chance to eat there until last night. I can now say without hesitation that I'm a big fan of Betty's French Blueberry Pie! In addition to pie slices to be enjoyed in the restaurant, you can also purchase a whole pie to take home with you.
Here's a Drew's Cheapolife tip: state and local sales tax is charged when you eat there. But if you buy an entire pie and take it with you, NO sales tax is charged. This is because in Minnesota, sales tax is only charged on food when it is prepared and/or consumed on premises. If you take an uncut pie home, it's considered "groceries" and not subject to taxation.
Regardless of whether you eat it there or get it to go, Betty will not disappoint. With nearly 20 rotating varieties, there's sure to be one you love. A trip to the North Shore just isn't complete without a stop at Betty's Pies!