Happy Labor Day from Superior Shores near beautiful Two Harbors, Minnesota! After being extended multiple times by my generous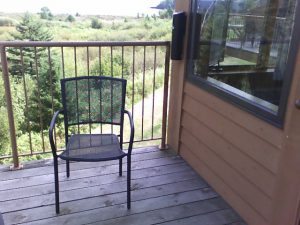 father, we are finally wrapping up our 2012 end of summer family vacation.
Bulletin, bulletin! This just in: Labor Day has been cancelled this year, due to a lack of jobs. Instead, we are celebrating National Empty Chair Day on this first Monday in September. Thanks for your inspiration, Clint Eastwood.
If you happen to be out and about on this Labor Day weekend, you are strongly encouraged to take part in the festivities. Be sure to post your own "Empty Chair" pics from today's picnics and family gatherings.
Happy Empty Chair Day, everyone!