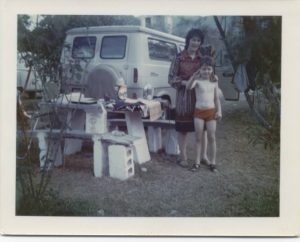 Throwback Thursday: June, 1971. Age 7.
It's hard to believe now, but in those days you could buy a van and drive through Mexico without fear of being stopped and killed by drug gangs. We took our 1969 Ford Club Wagon (Econoline van with camper conversion) all through Mexico. This made for an extremely memorable family vacation.
Here I am with Mom at our makeshift laundromat. Exact location unknown.
We entered the country at Nuevo Laredo. Over the course of about 2 weeks, we visited Monterrey, San Luis Potosi, Saltillo, Mexico City, Guadalajara, and several other Mexican cities. Finally, we reentered the U.S. at El Paso. A great adventure for sure.