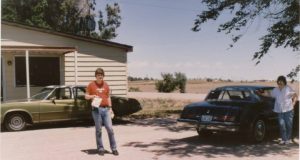 Throwback Thursday: July, 1986. Age 22.
Today, we are live from the parking lot at KNAB AM/FM in Burlington, Colorado. This was my second time at this station, as evidenced by the fact that I am wearing a KWKR t-shirt. Photos are rare because I was only there for 6 weeks. When the boss threw a tape cartridge at my head, I knew it was time to move on. But you gotta love my puke green 1973 Buick Century. She was a beast!
The Century had a trunk that could hold a couple of kegs plus about 15 cases of tapes. It was powered by a Buick 350 V8 that was strong and reliable as hell. It also got really crappy gas mileage. But 22-year-old guys really don't care about fuel economy. At 75 MPH, it felt like you were riding on a cloud.
Some of you are probably saying "I don't care about the car! Were you hurt badly when the tape hit your head?" No. Forunately, I saw it coming and ducked. I always figured I was lucky. Today, I'd let it hit me and collect the money!