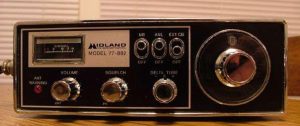 I can't believe that hardly anyone still uses CB radio. Recently, my friend Wayne gave me a very nice mobile unit that was manufactured in 1977. I hooked it up to a 12-volt power supply, constructed a 1/2 wave dipole antenna out of speaker wire, and set it up here in my office. Even though she's 35 years old, the old gal works great! Only problem is, there's nobody to talk to. All 40 channels are empty most of the time. Even the truckers seem to have migrated to cell phones.
The Midland "882" was an extremely popular unit. My first radio was the 13-882C. It was identical to this one except that it was just 23 channels. When 40 channel CB radios became legal in 1977, I got a 77-882. The receiver is very sensitive. Transmit power and audio is about average for the time. The 882's big feature was that both the 23 and 40 channel versions were extremely easy to modify for "extra" channels above and below the legal ones.
Back in the day, CB radios were so popular that it was often difficult to find an open channel to use. Now, it's tough finding an occupied channel and someone to talk to!