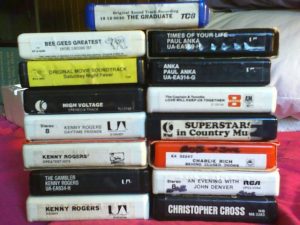 Being a CheapoLife kind of guy, it should come as no surprise that I love Goodwill stores. For years, Goodwill has been a source of inexpensive electronics and music. When I was 5 years old, Mom used to take me to the Bloomington store after my allergy shots at Oxboro Clinic. When I discovered I could buy used 45 RPM records for 10 cents each, I was thrilled!
Today, I discovered that Twin Cities area Goodwill stores are also an excellent source of 8-track tapes? You're probably saying "Who WANTS them? I HATED 8-tracks!" Granted, these cartridges weren't the best sound medium ever invented. But now that they haven't been manufactured for about 30 years, they have a certain coolness factor.
Believe it or not, there is actually demand beyond us geek types for 8-tracks. Antique car collectors are always looking for tapes to play in their vehicles. Factory 8-track players were a rare and desirable option in the late 1960s & 70s. The more original the car, the more it's worth. Because of this, many classic cars still have their factory players installed in the dash.
Now, you're probably asking "Do you even HAVE an 8-track player?" Of course! I actually have 3 players: a very nice Panasonic AM/FM/FM stereo portable unit (a boombox before boomboxes were cool), a high-end Marantz Superscope component recording deck, and the factory GM Delco AM/FM/8-track unit out of my 1978 Oldsmobile 98 Regency. Why did I keep the last one? Because someday, I will have another late 1970s Oldsmobile to install it in!
And the best part of today's guilty 8-track indulgence? The price! $7.87! 49 cents per tape plus 7.125% sales tax.