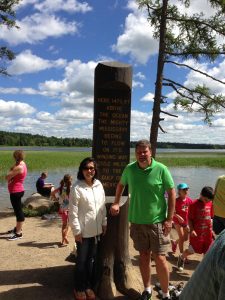 Yesterday, we decided to take a day trip to Itasca State Park. Itasca is Minnesota's oldest state park, known best as being the source of the mighty Mississippi River. It starts here and proceeds to flow for 2,552 miles before emptying into the Gulf of Mexico.
At this point, you can literally walk across the Mississippi! Every day, tourists from across the world come here to walk across the rocks. If you want to stay for a few days, the park has over 200 campsites. There are also several guest rooms at Douglas Lodge. A full-service restaurant is located at the lodge.
This was a fun trip. If you happen to be in northern Minnesota, I'd definitely recommend you spend a day at Itasca State Park!