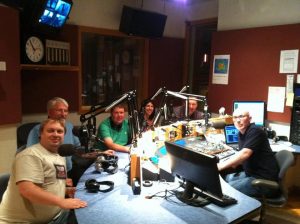 Here it is 3:26AM and I'm just getting home. Good grief, this is the latest I've been out in a LONG time! Fortunately, it was time well spent. I had a chance to hang out with some of our old Conclave crew and make a guest appearance on Ron Gerber's "Crap from the Past."
Every year on "Conclave Weekend", Ron plays host to this lucky group of radio misfits who "help" him broadcast his most excellent radio program, Crap from the Past. CFTP (or just "Crap" for short) airs every Friday night from 10PM-Midnight on 90.1 Minneapolis and 106.7 St. Paul.
This was the first time I'd been on-the-air since May 21, 1999. I was nervous as hell, but DAMN, I forgot how much fun this was! Thanks again, radio friends, for a great night!