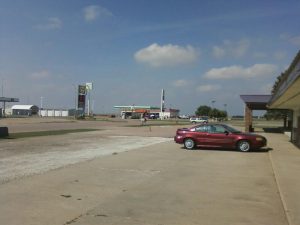 I just checked in to the Crossroads Motel in Beresford, South Dakota. Planning to stay here for 2 nights, then head north. Beresford is located about halfway between Sioux Falls and Sioux City, Iowa on I-29. Being a Sunday afternoon, I pretty much have the place to myself!
This motel is a time warp from the 1970s, and I mean that in a good way. It's definitely old school, but well preserved by the owners. Clean and comfortable. There's a Super 8 across the street, but I've been hearing about this place for years. Needless to say, Crossroads Motel was a "must visit" during Ramblin' Road Trip 2013!
Just behind the motel sits Bertz Sports Bar and Grill. I think I'll go get something to eat and watch the Packers/49ers game.