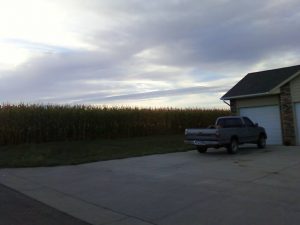 Today, we are broadcasting live from Garretson, South Dakota. Home to about 1,100 hardy souls, this little community sits about 20 miles NE of Sioux Falls. Almost in Minnesota, but not quite.
For the next 10 days, I'll be living at the Davis Motel. No chain hotels here! The Davis is one of those cute little mom and pop motels that you can still find in small towns. It's clean, comfortable, and the rates are more than reasonable. A nice older lady named Sharon runs the place. My only disadvantage is that the Davis does not have WiFi, but I have already found a workaround for this minor issue: the Garretson Library, just 3 blocks away!
The library is only open a few hours per day. However, they have thoughtfully provided sidewalk benches where you can take advantage of their free, fast WiFi connection 24/7. It's conveniently located across from the Garretson Food Center, which comes in handy when I need snacks.
Some of the locals give me a funny look when they see this guy sitting on the bench with a computer on his lap for long periods of time. But that's okay. I'm looking forward to the next several days of learning what all Garretson has to offer!